Valentine's Gift Voucher #ShareTheLove. With a Gift of the Wild Atlantic Way
12/02/2021
Let them Select Something Special
The lucky recipient can use their gift voucher for a weekend break? They can choose from one of our 29 hotels, all in fantastic locations throughout Ireland. Each hotel offers superb accommodation, great restaurants, relaxing lounges and, in a selection of hotels, traditional pubs and extensive leisure centres and spas.
And, whichever their preferred destination, they will find a range of activities close by to indulge on a shopping spree or take in the numerous historical and cultural landmarks.
They will also be able to enjoy the beauty of the surrounding countryside as, from any of our locations, you are literally within short driving distance of each region's unique spectacular scenery.
Cork
From the lively centre of Cork City, to the sweet tranquility of Mizen Head, Cork is a study in contrasts. One moment you are in the midst of a world-class shopping expedition, and the next, you are pausing to absorb a spectacular seaside vista. All of which makes Cork a unique and delightful area to visit.
The Rivers Lee and Blackwater, flowing through gently rolling meadows to the sea, will serve as your guide as you explore this delightful county. While the lively arts and music culture will make your heart beat faster, the beautiful scenery and world-class dining will give you plenty of reason to kick back and relax.
Actons Hotel
This hotel is ideally located in the heart of the chic town of Kinsale, a bustling area with a thriving wealth of restaurants and bars. Over the years Actons Hotel has established a reputation for its exceptional location, highly personal and genuine guest care, and renowned cuisine. Actons has become a 'home away from home' for both the people of Kinsale and the business and holiday travellers who know, feel and appreciate, the Actons Hotel difference.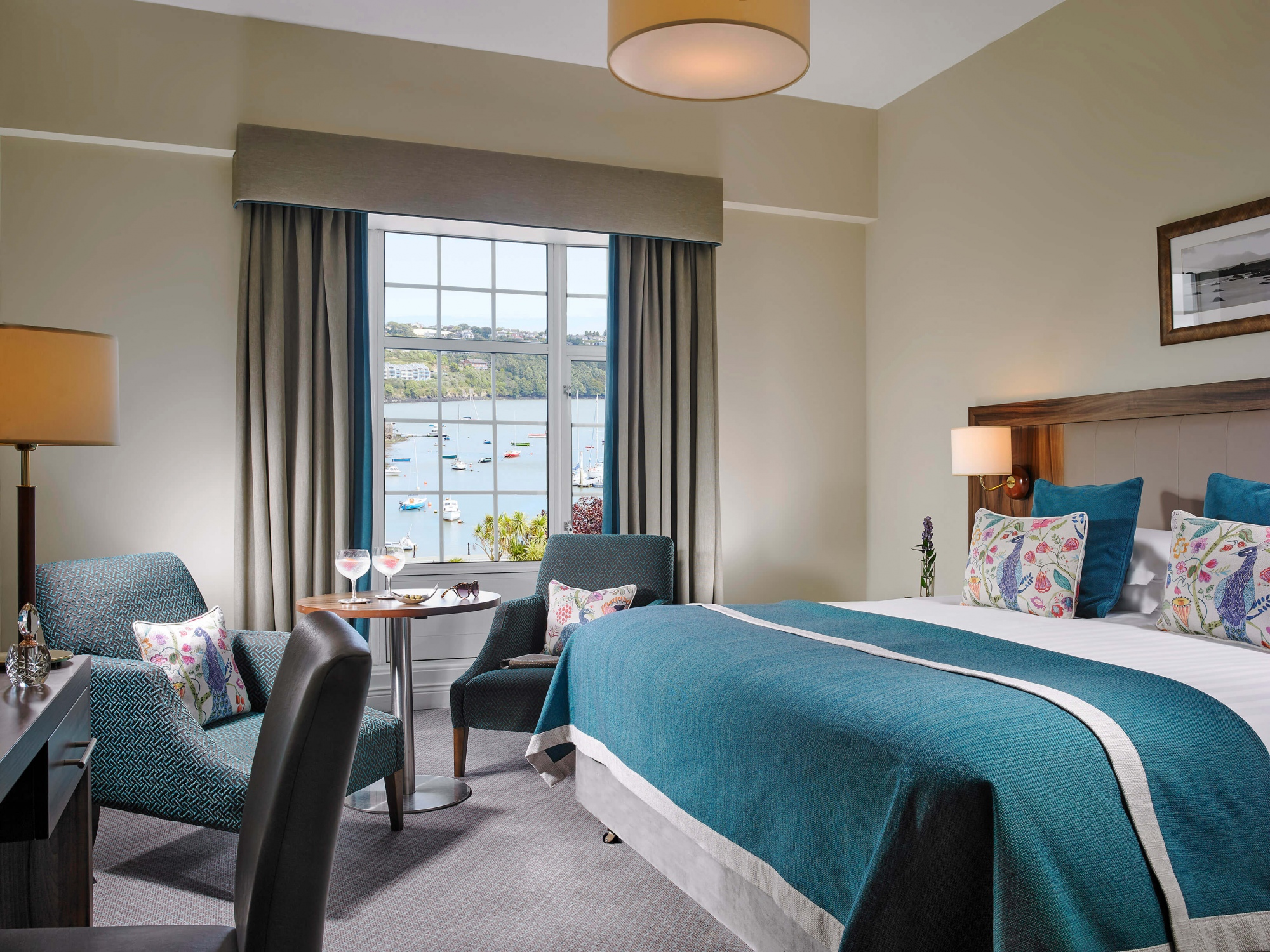 This contemporary boutique style hotel comprises of 77 guest bedrooms including luxury suites and family rooms, Sidney's Bar & Garden Lounge offering all day dining, Fisher St Restaurant, Health & Leisure Club with fully equipped gym, 15-meter swimming pool, sauna and steam room.
Trident Hotel Kinsale
Located on the waterfront with stunning views Just a few minutes stroll from the town's vibrant bars, restaurants and entertainment districts.
Recently refurbished the Trident has 75 guestrooms including an executive wing comprising 30 rooms and penthouse floor of 11 luxury suites, all with breath-taking views of the harbour and enchanting town of Kinsale.
Having a prime location that showcases its picturesque surroundings is wasted if you don't have the people to ensure the experience is an unforgettable one.
Celtic Ross Hotel
A friendly welcome and helpfulness make this property very special and is the perfect base to explore some of Ireland's best beaches and West Cork's historic gems. Experience West Cork at its best! Whether you're looking for an idyllic coastal retreat, or the perfect base to explore the southern stretch of Ireland's Wild Atlantic Way, the family-owned Celtic Ross Hotel is the place to stay in West Cork.
Nestled on the coast in the charming West Cork cathedral town of Rosscarbery, the hotel offers convenient access to some of Ireland's best beaches and West Cork's historic gems. The hotel is renowned for a dedication to delicious locally sourced food and warm West Cork hospitality. CRAFT West Cork, the hotel's artisanal food truck is the ultimate experience in al fresco dining on the Celtic Ross terrace.
Oriel House Hotel
One of Corks most popular hotels combining great facilities and service. A 4* property the hotel is just a 10 minute walk to the town's bustling shopping and entertainment offerings. Oriel House Hotel is a unique mix of old and new, luxury and relaxation and the dedicated team at Oriel House Hotel ensure that guests depart with nothing more than a desire to return.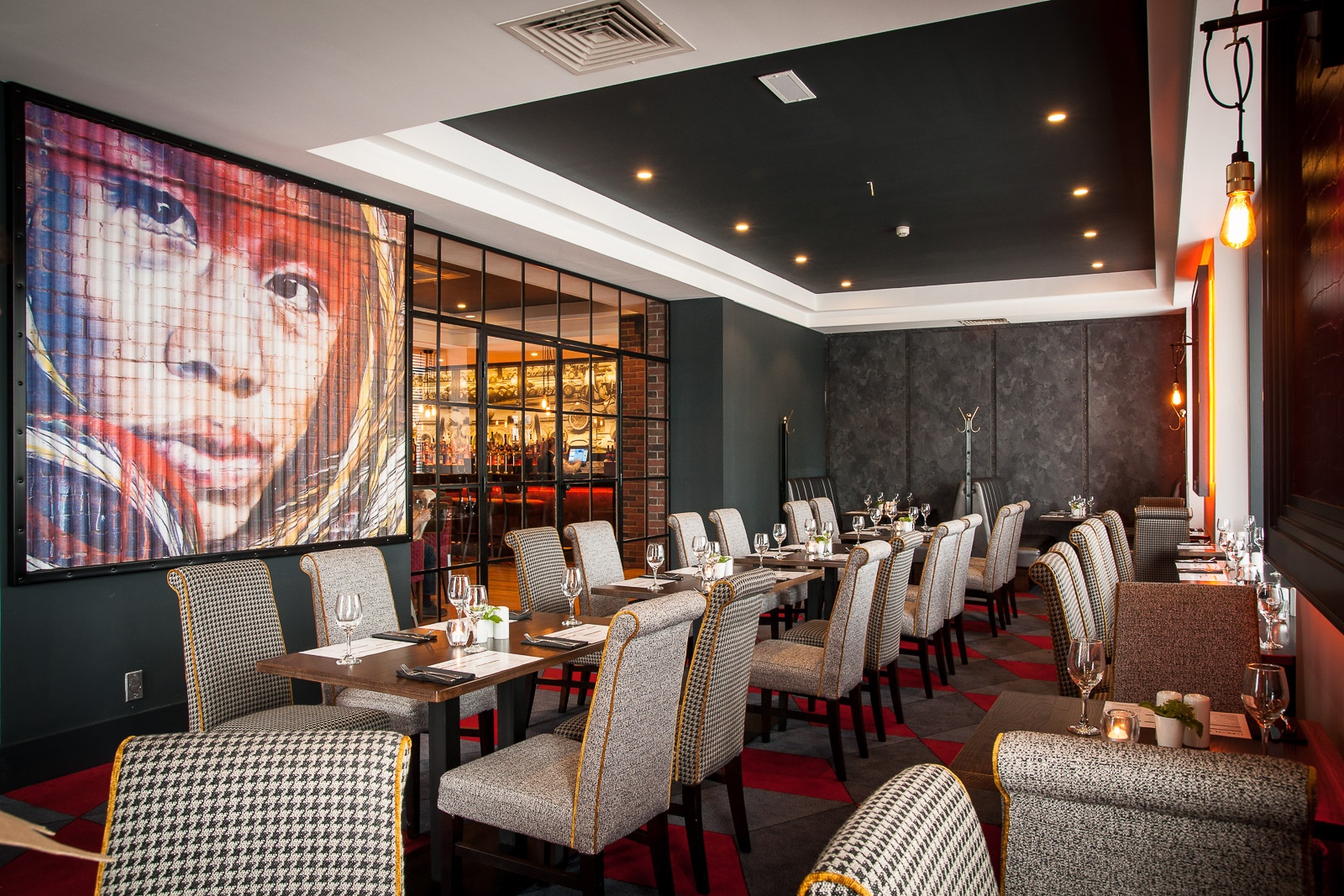 The Oriel Bar & Bistro provides our locals and visitors a vibrant atmosphere for meeting friends old and new. This lively bar serves an extensive bar food menu from noon to nine thirty, seven days a week with live entertainment every Saturday night.
Things to do
Visit Cork City
Exploring Cork is an enjoyable, multi-day pursuit. Ring the Shandon Bells in the 300 year-old tower of St. Anne's Church, and marvel at the French Gothic spires of St. Finbarr's Cathedral.
You will discover unique shopping and dining options, including the English Market, with its stalls selling foods from all over the world, and numerous pedestrian walkways and sidewalks flanked by smart boutiques and major department stores.
At every corner you'll come across another panoramic view, another interesting architectural feature and some of the best art galleries, theatres and museums in Ireland.
Blarney Castle
No visit would be complete without a trip to Blarney Castle, home to the famous Blarney Stone. Tradition says that those who kiss the stone will receive the gift of eloquence.
Golfing in Cork
Cork is a supreme location for the golfing enthusiast. From courses located on the rugged breathtaking peninsula on the southern coast of Ireland, jutting dramatically out into the Atlantic, to secluded courses among luscious green countryside, Cork county is the perfect premise for experienced golfers or those just starting out. Including courses which have hosted Murhpy's Irish Open, you are sure not to be disappointed! Whether you are staying in the City or County a golf course is within a 20 minute drive from you.
Explore the Regions
From the lively centre of Cork City, to the sweet tranquillity of Mizen Head, County Cork is a study in contrasts. South West of Ireland, it is the largest of all the Irish counties and in many ways the most varied. Rich farmlands and river valleys contrast with the wild sandstone hills of the west, and above all there is the magnificent coastline scooped and fretted by the Atlantic into great bays and secret coves, strewn with rocky headlands and long soft golden sands. One moment you are in the midst of a world-class shopping expedition, and the next, you are pausing to absorb a spectacular seaside vista. All of which makes County Cork a unique and delightful area to visit.
Water sports
Situated in the southwest of Ireland, Cork County sits on the Atlantic Ocean, making it the ideal spot for the water sports enthusiast. From discovering the depths of the sea, sailing off into the sunset, or relaxing on the beach, Cork County has a water adventure for people of all ages. From fishing to sailing, from surfing to scuba-diving you will find it in Cork.
Kerry
Facing the broad Atlantic Ocean, majestic Kerry is a place of breath-taking scenery where you'll be enchanted by the wealth of nature's treasures; from heritage centres to Ireland's two highest mountains 'Carrantoohil' and 'Mount Brandon' and Ireland's highest pass 'The Conor Pass'.
Dingle Skellig Hotel, Kerry
Spectacularly set overlooking Dingle Bay. Spacious comfortable rooms, good dining and superb leisure centre including outdoor hot-tub ensure a very pleasant stay. Tour the Ring of Kerry or simply take in the stunning local scenery. In 2019 the hotel added on an additional 32 new deluxe guest rooms and suites including larger family rooms, sea view executive suites and 5 roof top balcony suites with views over Dingle bay.
Kenmare Bay Hotel & Resort
This stylish resort property offers comfortable accommodation, excellent restaurant and bar, a superb leisure centre and all the charms of Kenmare Town are close by. Tucked into one of the most picturesque corners of the Wild Atlantic Way, the multi-award-winning Kenmare Bay Hotel & Resort is the ideal retreat for discovering the gems of the Ring of Kerry & the Beara Peninsula.
Escape to living with our choice of standard and superior rooms. Whether you stay in the hotel itself or in the modern comfort of our self catering homes or lodges, you are assured of exceptional comfort, friendly service, and a thoroughly enjoyable stay.
Killarney Riverside Hotel
A charming boutique-style hotel just 10 minutes' drive from Killarney town centre, the hotel is close to the INEC and Killarney National Park. The ideal base from which to explore Co. Kerry. The hotel is also a perfect base for golf, fishing, horse riding, touring County Kerry's many scenic attractions and a host of other outdoor activities in Kerry.
Adjacent to the Flesk River, the Killarney Riverside Hotel is a Four star Boutique style hotel located on the Muckross Road (near the INEC), a 10 minute walk from Killarney town centre. Our Bedroom Accommodation is of a 4 star standard with phone, TV, hairdryer, tea/coffee tray, complimentary Wi-Fi internet access and a 24 hour room service menu.
Things to Do
Ring of Kerry
For many people around the world, the Ring of Kerry drive encapsulates their image of Ireland. The spectacular scenery, dramatic coastline, colourful towns and villages and ancient archaeological treasures have been featured in postcards, film, poetry and song. Each twist and turn on the road will reveal new sights - windswept cliffs, breathtaking scenery, spectacular lakes, rich flora and fauna, green and yellow chequered hills and unspoilt beaches.
The Dingle Peninsula
Peace and tranquility are synonymous with the Dingle Peninsula. Life moves at an unhurried pace, but the local people are quick to offer you the opportunity to share their unique culture and heritage.
An Daingean (Dingle), a beautiful and charming fishing port, is the most westerly town in Europe and a most memorable destination. Gaily painted houses and busy streets lead you to the harbour, where you can meet Fungi, a playful bottle-nosed dolphin who cavorts for the enjoyment of everyone.
The Gap of Dunloe
A breathtaking gap between Purple Mountain faces - horizontal plates of sheer rock that tilt down toward green and watery abundance - the Gap of Dunloe is a jewel set within the highest mountain range in Ireland. A river runs through the gap, with grassy banks for sitting, and picturesque bridges to cross. This is a place to walk, fingers intertwined with your lover's hand, or to be wheeled in a carriage drawn by Klidesdale horses.
Muckross House
Situated in Killarney National Park, Muckross House and Gardens are among the most popular of Irish visitor attractions. Today, many of the rooms in this magnificent mansion have been restored to their original Victorian splendour. Between the months of April and July, Muckross Gardens are spectacularly adorned with the red and pink flowers of mature Rhododendrons. An Arboretum, containing many trees from the Southern Hemisphere, was established here in 1972.
Muckross Traditional Farms are situated adjacent to Muckross House. These working farms recreate and portray the traditional farming methods, and way of life, of a typical local, rural community of the 1930s.
Galway
Galway is a city, a county, and an experience to be savoured and remembered.
There is a one of a kind vibrancy to this friendly University City, which many delight in, and few forget. Music, festivals, horse racing, pubs, restaurants, shops, theatres and most of all Galway people, combine to create this atmospheric mediaeval city of culture.
Ard Ri House Hotel
The Ard Rí House Hotel on the Milltown Road in Tuam Co Galway invites you to enjoy a warm welcome of hospitality and service. The ideal base to explore the Wild Atlantic Way. Only 30 minutes from Galway, the city of the Tribes with close proximity to all leading tourist destinations in the West, with access to the M17/18 motorway closeby.
Our 51 bedrooms accommodate 137 beds, comprising twin, double, triple and family rooms all with complimentary Wi-Fi. Our dining options include the Kiltevna Room Restaurant and the renowned Dick Dowling's Bar.
The Ardilaun Hotel, Galway
Located just 10 minutes outside the city close to Salthill, this is a great base from which to explore the city. Galway has lots to offer including great shopping, restaurants, and great history.
The Ardilaun Hotel is ideally located on the doorstep of Galway City, Capital of Culture 2020, a vibrant, bustling and colourful city of festivals but also close to the gateway to Connemara and the Aran Islands.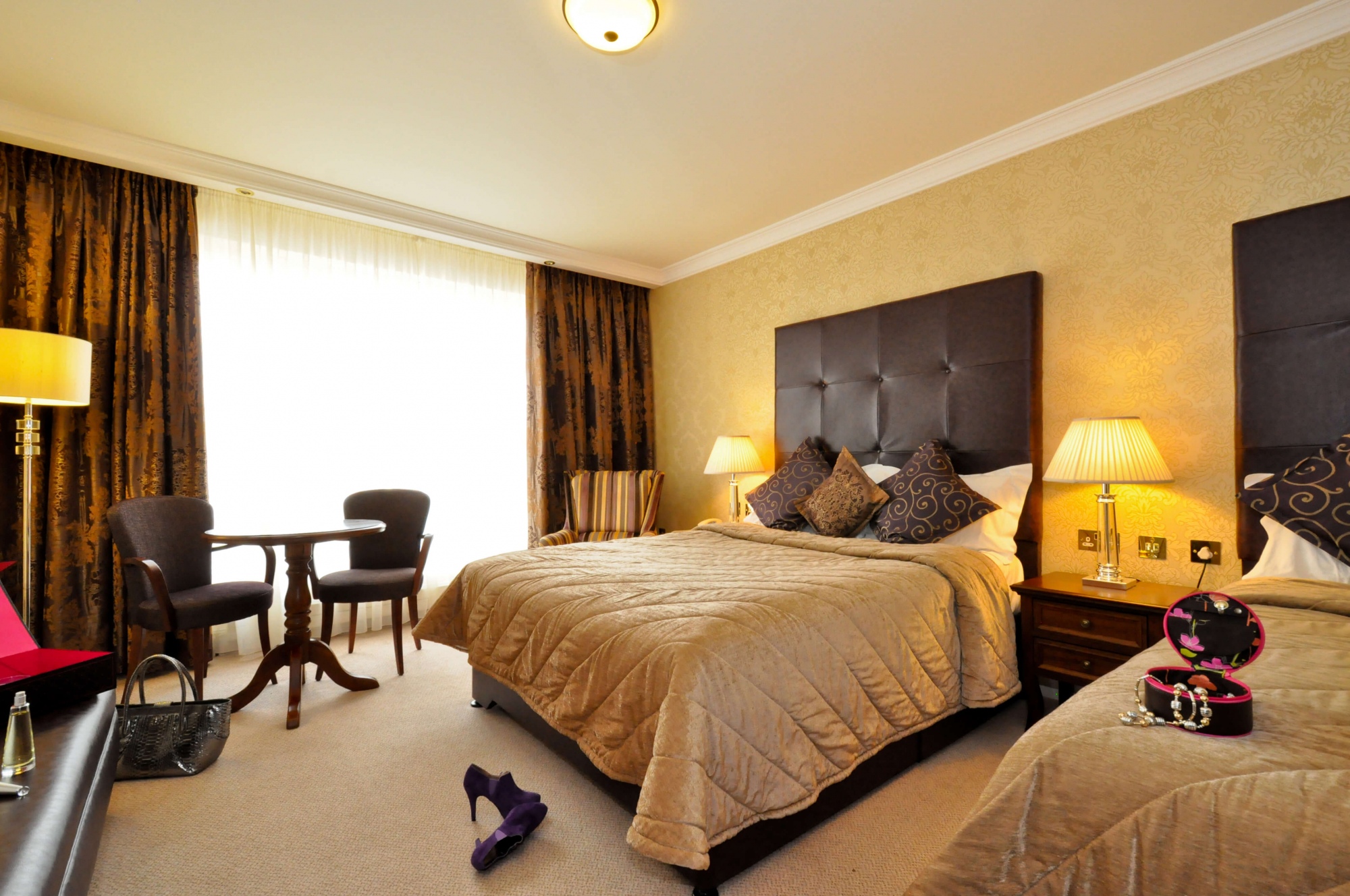 Clifden Station House Hotel
Set around the old Clifden railway station, this historic property offers relaxed comfort, great food and popular bar. The perfect base from which to explore Connemara scenery. The Clifden Station House is the perfect base for exploring Connemara, the stunning landscape and breath-taking coastline.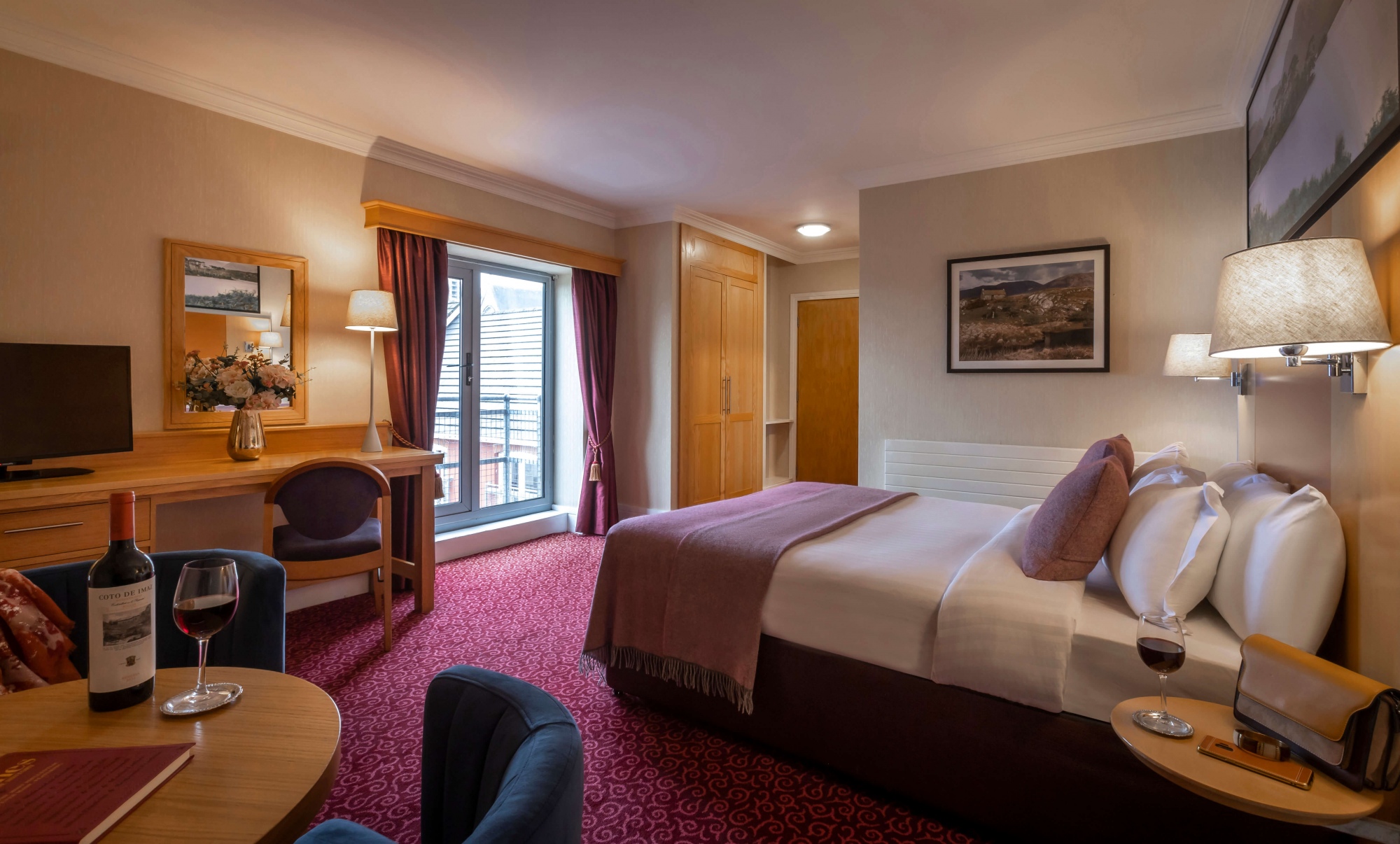 Relax in Renew Spa & Leisure Club and enjoy the best of the regions cuisine in The Carriage Restaurant or the Signal Bar. With an additional sixteen 4 Star Self Catering Apartments, there are options to suit all parties.
Things to Do
Aran Islands
Here, on the very edge of Europe, is an Island rich in the language, culture and heritage of Ireland, unique in its geology and archaeology and in its long tradition of gentle hospitality. Here is a place to sense the spirit of Gaelic Ireland, to touch the past, but with all the comforts and facilities of the present. Aran will take you back to an Ireland of Celts and Early Christians. This is an island of great peace and tranquility, but it is also an island of great fun and activity.
Connemara
From the rugged Twelve Bens mountain range in the North through lake-rich Roundstone Bog to the golden beaches reaching out into the Atlantic Ocean, you'll know you're in Connemara by the light that constantly changes the mood and tone of the landscape. Connemara has long been regarded as the real emerald of Ireland.
Kylemore Abbey
Kylemore Abbey, located in the Kylemore Pass in Connemara, Co. Galway, has been home to the Irish Benedictine nuns since 1920. The Benedictine nuns bought the house in 1920, having fled their convent in war-torn Belgium in 1914, where they ran a boarding school for girls for over 300 years. They re-established the school here and it is still very much alive today. Set in the heart of Connemara, Kylemore Abbey shares its woodlands, lakes and rivers with a large variety of birds and animals. A trip to the West of Ireland is not complete without experiencing the beauty and tranquility of Kylemore Abbey and Gardens.
Galway City
Buskers and musicians can be found on most street corners and it is rare to walk through the heart of the city and not hear the notes of a harp, accordion, guitar or fiddle.
The Arts thrive in this bohemian city and music is its lifeblood. Rare is the pub or hostelry which does not have a music session going on and the spontaneity of someone pulling a tin whistle out of a pocket and launching into a tune makes music what it should be, a shared and wonderful experience.
Mayo
Jutting proudly into the Atlantic Ocean, County Mayo boasts a stunningly beautiful unspoilt environment with a magical attraction for visitors. Cosmopolitan towns such as Westport positively burst with charm and personality, as welcoming as the Mayo people themselves.
Breaffy House Resort
The 4 Star Breaffy House Hotel known as "Destination Breaffy" is located just 3km outside Castlebar on a 101-acre woodland estate in the heart of Co. Mayo on the doorstep of the Wild Atlantic Way, a mere 15 mins drive to Westport and a 25 min drive to Croagh Patrick and the Great Western Greenway.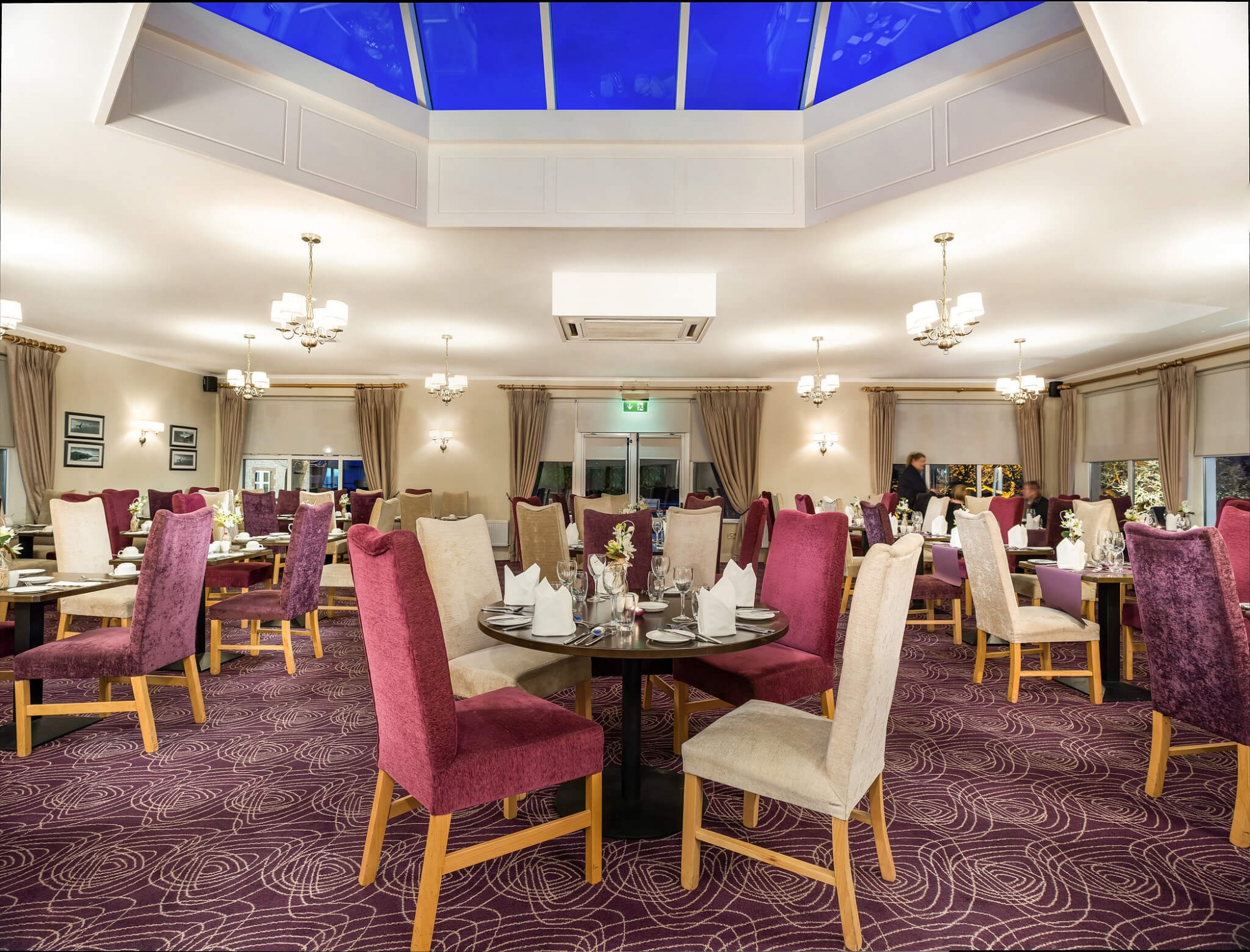 A resort property offering style, comfort and elegance with extensive facilities and all set on 101 acres of gardens. Ideal for both business and leisure guests. The 4 Star House hotel is a stunning 19th century Victorian Manor hotel with repointed Victorian architecture.
The Wyatt Hotel
Just minutes walk from Westport town's restaurants, bars and shops this property is set right at the heart of the action.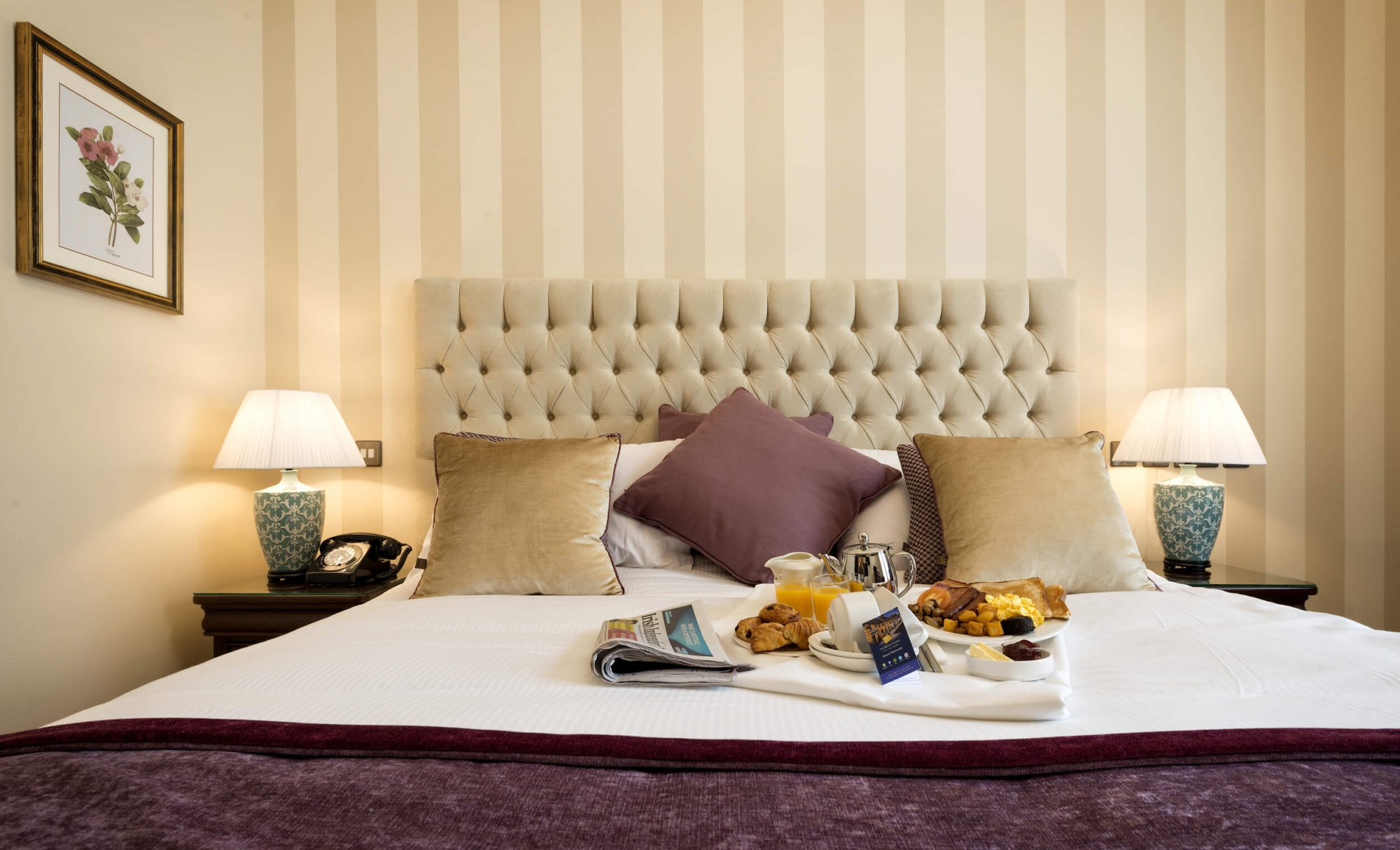 A charming 3* boutique style hotel located in the heart of glorious Westport town boasting a renowned welcoming atmosphere popular with visitors and locals alike. This bustling property has 69 tastefully decorated rooms, an upmarket Brasserie, a lively traditional Irish Bar, as well as an award winning Restaurant. All guests can avail of Free Parking, Wi-Fi, Complimentary Access to the 4* Westport Leisure Park and the Wyatt is Westport's only Dog Friendly Hotel.
The Twin Trees Hotel & Leisure Club
Discover Ballina & The Wild Atlantic Way like never before at the Twin Trees Hotel & Leisure Club. We are one of Ireland's longest established friendly, family-run hotels. Ideally located next to the Brosna and Moy Rivers with Ballina Town centre, shops and leisure activities just a short 10-minute walk. Outside dining with landscaped gardens to reconnect and recharge with free onsite parking.
Things to do
Fishing
Fishing in Mayo is a fisherman's paradise, with its empty riverbanks, full rivers and the cleanest air and water in Europe. The waterways are set against a backdrop of natural beauty and offer both to the experienced angler and the enthusiastic beginner some of the best fishing in the world. Visit the famous shores of Loughs Conn & Cullin and fish for wild brown trout with your own boat and Ghillie who can also offer some expert advice!
Visit Croagh Patrick & Knock Shrine
Croagh Patrick is situated five miles from the picturesque town of Westport and the mountain's conical shape soars majestically above the surrounding countryside.
Magnificent views of Clew Bay and the surrounding south Mayo countryside are to be had from all stages of the ascent of the mountain. Follow the steps of Patrick and in doing so meet people from far and near.
Visit Westport Town
Westport, designated one of Bord Failte's Heritage Towns, is situated in the shadow of Croagh Patrick, overlooking Clew Bay. One of the few planned towns in the Country, Westport was designed in the 18th Century by James Wyatt. It has become one of Ireland's established tourism centres, with many outstanding features, most notably the beautiful tree lined boulevard known as The Mall, running parallel to the Carrowbeg River.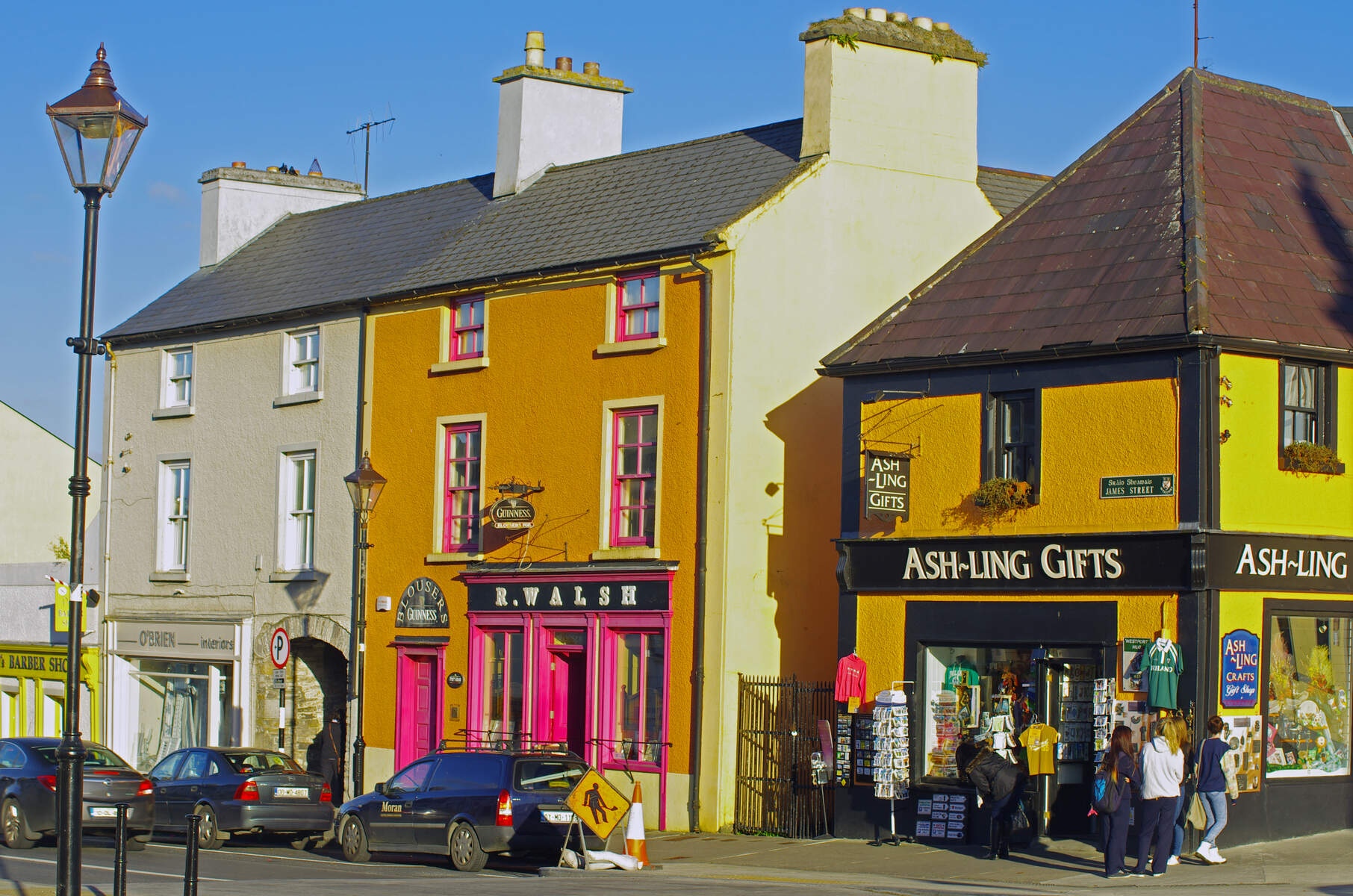 Achill Island
Achill Island is the largest island in the Country and is accessible from the mainland by bridge. Its magnificent sandy beaches, sea cliffs and warm hospitality bring visitors back again and again. Visit the beautiful villages of Dooagh and Dooega, the high cliffs at Slievemore and Minaun, the magnificent beaches at Keel and Keem, under the Achill Head. The famous Atlantic Drive takes you on a journey of scenic splendour, a must for all visitors to Achill.
Walking
Mayo is a lightly populated and largely rural county, lending itself ideally to walking. The scenery is spectacular and the variety of terrain interesting – some areas are level and easy going, ideal for strollers, while the hills, mountains and bogs offer a stiff challenge to the accomplished walker.
Clare
One of Ireland's premier tourism counties, Clare is just amazing. It has an abundance of visual riches from the famous river Shannon and Lough Derg, which forms its eastern boundary, to its rugged Atlantic coastline with its towering cliffs and golden 'Blue Flag' beaches.
Falls Hotel & Spa
The Falls Hotel & Spa in Ennistymon, is at the heart of the Wild Atlantic Way, and at the gateway to the Cliffs of Moher & Burren Geopark. We passionately support sustainable tourism. When staying at The Falls Hotel, you are staying in hotel that gets its electricity from the power of the river running alongside them – yes, they are running on hydro power from the powerful cascades that give the hotel its name!
Top Things to Do
The Cliffs Of Moher
The Cliffs of Moher are one of Ireland's top Visitor attractions. The Cliffs are 214m high at the highest point and range for 8 kilometres over the Atlantic Ocean on the western seaboard of County Clare. O'Brien's Tower stands proudly on a headland of the majestic Cliffs. From the Cliffs one can see the Aran Islands, Galway Bay, as well as The Twelve Pins, the Maum Turk Mountains in Connemara and Loop Head to the South.
Walking - the best way to experience the Shannon Region
Walking is truly the best way to experience the beauty of the Shannon Region. A network of quiet country roads and lanes, forest paths and mountain trails will take you to the heart of the beautiful, rural countryside.
For serious walkers, there are many well organized routes in the loveliest areas, which are clearly signposted at all junctions with standard way-markers. Eleven national, long-distance walking trails traverse the Region's most interesting scenery.
The Burren
The Burren is the general name given to the fascinating limestone-layered fields of the 500 square kilometre stone-plated crown for North Clare and South Galway. An upside-down world of contradictions where rivers run underground through a honeycomb of caves carved by nature through low-resistance limestone; year-round pasture flourishes at rocky heights; Arctic, Alpine and Mediterranean plants grow side by side as strange flower-bed fellows in secret stone pockets and rocky wrinkles.
Tempting Treats
Afternoon Tea
Catching up with friends, relaxing after a day of shopping or just watching the world go by - whatever the reason a Select Hotels gift voucher can be used towards afternoon tea in a number of our properties nationwide.
Spa Breaks
Relax and let us introduce you to a new you – a more relaxed, more toned, more pampered you that leaves you totally rejuvenated. Select Hotels gift vouchers can be used towards Spa treatments in any of our hotels where available.
A choice of 29 hotels nationwide
We've breaks for lovers, for gourmets, for people who love pampering and for people who prefer a little excitement.